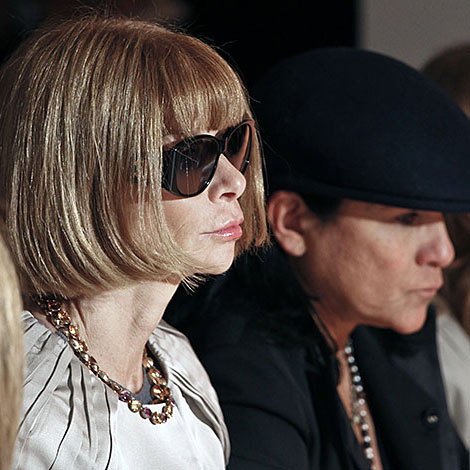 Photo: Featureflash / Shutterstock
Live and breathe

fashion? Looking to join the sorority of stylists and fashion editors? Pat Steele gives you an insider's view of what to expect.

Invitations to the best fashion shows and parties, discounted designer clothing, champagne on tap.... A fashion editor's life may sound heavenly, but the journey to front-row Nirvana is no easy 8-Path Guide to Entitlement.

Unfortunately for tear-sheet-deprived aspirants, the journey is fast-tracked for those with a very different portfolio: a good number of the cliquish coven of Blahnik-wearing fashion editors owe their jobs to the old-girls' network. In Manhattan fashion publishing at least, the right private school and a debutante's pedigree are never out of style. However, don't be discouraged if your blood doesn't run to various shades of blue and your ambitions are larger than your bank account: sheer determination, originality, a steely stomach and drop-dead style are also required to make it as a fashion editor. Though no meritocracy, in fashion as in life, talent always wins.



I love your work — What do you do again?



There are two distinct jobs in the fashion editing game. In-house fashion editors and stylists, like Harper's Bazaar's Melanie Ward, are usually the inspiration for the theme or narrative — "couture denim," "vive le rock star!" etc. — which runs through every fashion story. Like many of her styling sisters, Ward is also a hired gun for designers and photographers. In addition to conceiving shoots for Bazaar, Ward moonlights as a freelance stylist and as Helmut Lang's muse, helping the designer edit his collection and advertising images.

Meanwhile, market editors' responsibilities include having an expert knowledge of their beat. This entails traveling to designated cities, cultivating relationships with showrooms, choosing the right clothes for the story and making arrangements for the delivery and return of garments. Both positions are highly sought after and come with glorious perks, but in most cases the stylist's job is more creative and prestigious. It's no surprise then that a lot of market editors would like to be stylists. In any case, everyone starts out as an assistant, or at a less-than-divine publication. Even Anna Wintour cut her teeth at House & Garden.
The importance of interning
"There's nothing more

important than to intern at a magazine during college," says Ruth Basloe, the 25-year-old fashion editor at Cosmopolitan. While a senior at Barnard College in New York, Basloe secured an internship at Harper's Bazaar. "It was in the features department, but I didn't care, I just wanted to be there." Her internship led to a job as an assistant at Redbook, and after a year she went back to Harper's Bazaar as a market editor.

Cosmogirl editor-in-chief Atoosa Rubenstein started as a Sassy intern. Rubenstein was notorious for her enthusiasm, even over the most menial tasks. "To me, that job was like saving lives," she says. "I did it with a real vengeance."

Another seasoned fashion editor at Hearst goes as far as to say that everyone she knows in the business has interned. "You're not going to get a job if you don't intern," she says flatly. "When we're hiring for assistants, we want someone who's already had magazine experience, and the best way to do it is while you're at college." If you're not lucky enough to attend a New York City school (many of Manhattan fashion editors have degrees from Barnard, Columbia and NYU), a summer internship is a good option.

Publishing powerhouses Conde Nast and Hearst receive thousands of resumes a year, and getting into one of their publications is the style equivalent to an acceptance letter from Harvard. Many are called, but only a few of the fashion-mad are chosen.

It's not all about who you know. Some editors do hire candidates based on intelligence and passion. "When I'm hiring assistants and interns," a fashion director says, "I always look for a high aptitude as well as a real energy for the clothes. I mean, the job is not that exciting. I want someone who'll swoon when the Versace gowns come in, because that's what makes it worth it."

Persistence is key. If you don't know anyone at a magazine to send your resume to, go through the mastheads of your target titles and mail away. "I sent my resume everywhere," recalls Basloe. "Someone called and said they didn't have an opening, but they knew someone who did at another magazine. And because my resume looked good, they wanted to recommend me for the position." If your cold-calling doesn't yield results, you can always make your name and fatten your portfolio in the indie-mag frontier. Avant-garde magazines, with smaller budgets and an alternative viewpoint, can be stepping-stones to corporate behemoths. Surface, Arude, Flaunt and Visonaire, are more prepared take on the responsibility of testing out lesser-known talents. Be prepared to work for free, but amassing a great clip file from the 'underground' is a great way to launch into the mainstream. Camilla Nickerson, Vogue's senior fashion editor, made her career by styling eccentric, in-your-face shoots for British magazines like The Face. An early peddler of heroin chic, Nickerson was soon snapped up by Vogue's Anna Wintour to work on the other side of the Atlantic.
Dressing for your interview
There's no occupation

more sartorially demanding than fashion editor, so dressing the part in your interview is essential. Still, when you're starting out, it's hard to make an impression. However, all the editors interviewed for this story agree: wear something respectfully professional, but still stylish. "No suits!" a fashion director commands. "Knee length skirt, bare legs, heels. Strappy sandals are OK. But don't wear jeans — unless they're Chloe."

Basloe, who is routinely photographed by the fashion paparazzi and has been pictured numerous times in the "Street Style" section of the New York Times and the fashion pages of the New York Post, still remembers her first interview outfit. "I had a sleeveless black turtleneck, a periwinkle knee-length skirt, and those Sabrina heels — the ones when they first came out. I was a senior in college and I didn't have too much money to shop, so the shirt was from the Gap, the skirt I got at Filene's, and the shoes were from Zara. And I still think it's a great outfit!"

"Basically, you're styling yourself," she says. "When people see you at appointments and at shows looking good, they'll want you. Your value rises. Let's face it, this is a looks-oriented industry." Helen Gurley Brown remembers that when Atoosa Rubenstein was an assistant, "People would ask me, Who is that girl? She was so striking."

Once you're in, keeping up the look is important. "I like to make sure every thing is right. I dress somewhat thematically," another much-photographed editor says. "I like to make sure I have the right jewelry on, the right shoes. If I'm working a look and I'll remember that I have another pair of shoes that might have worked better, I'll spend the whole day berating myself for not thinking of them sooner. It's all about the details."

Still, bargain shopping is not to be sniffed at. "It's all about mixing," says Basloe. "I still love H&M and the Gap. Don't be a snob."
What to expect on the job
It's not all

sample sales and town cars. Internships are typically unpaid, or on the low side, and assistants earn in the high teens or low twenties. Entry-level jobs in the fashion magazine industry are also mindless and menial. "It's going to be pretty unglamorous," a former assistant at Vogue told me. "Mostly you end up steam-cleaning clothes for shoots, answering phones, opening mail." After interning at Sassy, Atoosa Rubenstein's first job was as a fashion assistant at Cosmopolitan — she had to keep the fashion closet (where all clothes and accessories are kept between shoots) neat and tidy.

Paying your dues means never giving any attitude when performing trivial tasks. "Don't sigh. Don't roll your eyes. This is a social game, people notice," an editor warns. "Also, you shouldn't kiss ass too much. It's better if people think you're cool." Enthusiasm is infectious — and can lead to bigger things. Nancy Roth, an NYU graduate who interned and worked as an assistant at Harper's Bazaar, followed that with a stint as a market editor for Allure, and was recently made a Senior Fashion Editor at Mademoiselle at 24. Roth was notorious for her dedication — she was reported not to have missed a day of work as an intern, even during finals.

As an assistant, you're responsible for the magazine's relationships with the showrooms. "You can't be careless," a Vogue assistant says. "If you say you'll have a sample from a shoot back at 4pm, you should make sure it goes back at 4pm. You have to keep to your word and respect their job and their obligations to other magazines." Usually, several magazines need the same sample, so a bad reputation can mean others in the fashion clique won't be so ready to help you out during deadline time.

The endlessly catty environment is also something you will have to adapt to — quickly. This is no career cliché. Fashion magazines are typically estrogen-heavy environments, and things can get nasty and competitive faster than you can say "Bitch on heels." One former Hearst staffer says, "If I wanted to join a sorority, I would have joined one in college. But you just can't take it personally." On the plus side: unlike the stiffness endemic to the typical office jobs, life at a magazine is less rigid, and sitting around and gossiping all day is allowed during slow moments. Still, the creative industry does breed its share of tyrants. It's common knowledge that several Vogue editors are notorious for their less-than-appealing behavior, but the sisterhood regularly warns other junior assistants about which editors to avoid.



Where are the goodie bags?



So your colleagues are hormonal and the pay isn't anything to write home about (or in most cases, to live on), but the perks — oh, the perks.

"You get a lot of free clothes," an editor admits. "Depending on your rank. You get a good amount of stuff at different levels. But you have to be careful not to get too greedy." Taking advantage of your position is a definite no-no. "People will notice. But it's hard — it's a strange thing. It's partly friendship and partly bribery — and things can definitely get out of hand." While some working fashion journalists are not allowed by their publications to accept gifts — e.g. the New York Times and the New York Observer — in the rest of the business it's a free-for-all.

Assistants can also view the fashion show circus first-hand, usually in their boss' place. "I remember when I was at Bazaar," says Cosmopolitan's Ruth Basloe recounts, "I went to my first show because my boss couldn't go. It was the Enrico Coveri show, and they sat her in the front row. I was so used to sitting in the back for Redbook. Of course I'm there 20 minutes early and I'm waiting. Ivanka Trump is modeling. And who sits next to me but Donald Trump!" Basloe laughs. "I was horrified! All the photographers started going nuts and I just wanted to hide underneath my seat."

Not for long, of course. Once they get through the door, few fashionistas want to step back outside. After all, a fashion editor's job is what every style addict craves.

"When I was a teenager, I cried, when I saw the Harper's Bazaar with Linda Evangelista on the cover. I cried, it was so beautiful," says Rubenstein.

"I was 8 years old and my family went on this cross-country train ride," remembers Basloe. "We were supposed to look at the scenery — that was the purpose of the trip. I totally missed it because I was immersed in my copy of Vogue. My family still teases me about that. But that's what I am. I'm a magazine and fashion junkie."